Our Veterinarians
Meet our veterinarians! Dr. Glahn is our main vet here, working Tuesday through Friday and every other Saturday. Dr. Couture works Mondays and every other Saturday. No matter which veterinarian your pet sees you can be assured you are getting the highest quality care here at Coastal Cat Clinic.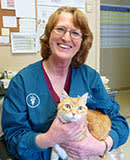 Dr. Cathy Glahn
Dr. Cathy Glahn graduated from the UC Davis School of Veterinary Medicine in 1983 after completing her undergraduate work at Cal Poly, San Luis Obispo. She joined Linda Mar Veterinary Hospital in 1995. Dr. Glahn has an interest in internal medicine, dentistry, and senior care and has completed a prestigious Donald G. Low-CVMA Practitioner Fellowship with the UC Davis Dentistry and Oral Surgery Service. Dr. Glahn worked to establish high-quality dental care for dogs and cats at the Linda Mar Veterinary Hospital, and now at the Coastal Cat Clinic where she is currently practicing. As our managing veterinarian, she is the biggest advocate for us becoming a certified Cat-Friendly Practice.
In her free time, Dr. Glahn enjoys camping, reading and traveling, especially to see her daughters who both live out of state.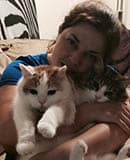 Dr. Thea Couture
Dr. Thea Couture is originally from Canada and completed her undergraduate degree at the University of British Columbia. Following graduation she relocated to Sydney Australia and completed her veterinary degree in 2009. She then moved to Fremont, California and worked at a small animal practice before joining Linda Mar Veterinary Hospital in 2014.
Dr. Couture is a small animal general practitioner interested in many areas of medicine and surgery, in particular feline medicine.
In her spare time, Dr. Couture enjoys traveling, going to the gym, and spending quality time with her two cats Audi and Porsche.